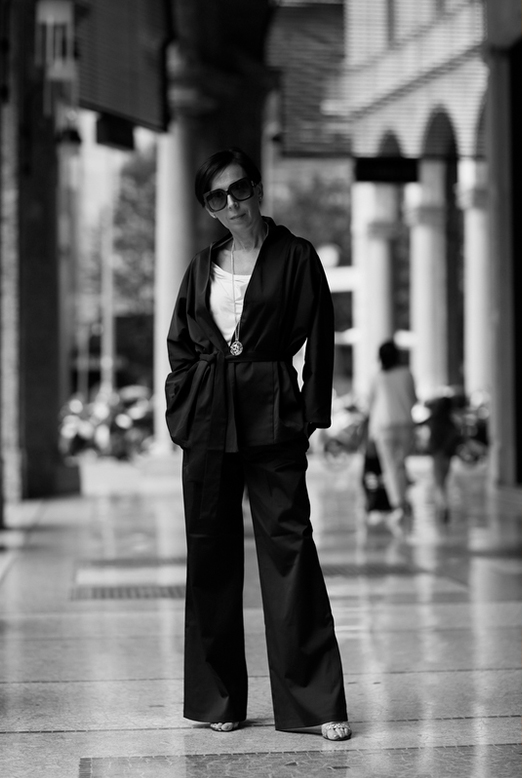 AGNES WUYAM is a fashion brand created by the Polish designer living and working in France, Agnieszka Samulska-Wuyam. It offers ready-to-wear collections, evening wear, particularly feminine and sensual lingerie, as well as very modern jewelry lines embellished with Swarovski crystals. Her clothes are for dynamic, confident and confident women who like to show their difference in the urban jungle. Modernity, minimalism, sport chic and French elegance are the hallmarks of the creations of the label Agnes Wuyam.
Agnieszka Samulska-Wuyam graduated in 1996 from the School of Design and Advertising in Lodz in the fashion design specialty. Already during her studies, she began her artistic and creative career. She exhibited her photographs in 1994 in Katowice and in 1995 her oil paintings in Munich. Since 1995, she has been working closely with brands as a stylist and designer, as well as developing her own collections.
Agnes Wuyam has been awarded the "Best seller of the Year 2015" award by "Imperium Urody" magazine in the Discovery of the Year category. And in 2016, she received the Business Trust Award by Business Diamonds in Female. Currently, she works, lives and creates in France. His latest project is the opening of his online store and its network of physical shops to make available to the public its collections and its creations. Launch scheduled for December 2017. Agnieszka Samulska-Wuyam has produced parades for Polish national and regional television, collections for Elite Model Look, Poznan International Fair and fashion shows for fashion magazine.
Partners include brands like Kris Line, Solar, V & Bis Design. The designer organizes many fashion shows in France and Italy – Fashion Week Milan, the parades in the presence of the Consul General of Poland in Lyon or the Polish Embassy in Paris. She is invited to various events and events in the world of fashion as well as charity balls. She was also part of the jury of the Fashion Model contest for Fashion TV Poland and Miss Wielkopolska.
She dresses Polish show business stars such as actresses Karolina Nowakowska and Wiktoria Gasiewska, singer Beata Kozidrak and journalists: Karolina Malinowska, Daria Pacanska as well as French fashion personalities like Gabano Manenc.
Her activity has been recognized by numerous publications in Elle, Italian Vogue, articles in La Dépêche and Fashion magazine as well as publications in digital fashion media and social media. She is regularly interviewed by ATV television and is the subject of publications in the trade press: IK media law buisiness quality, Media Elite and Moda i ja.