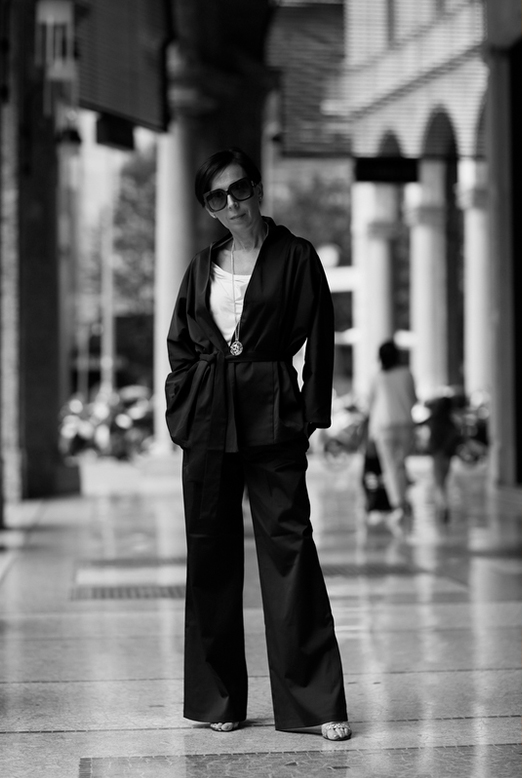 MODE AGNES WUYAM: History on the Move
Published by Khalad @zeiblatt_magazine
Founded by Agnieszka Samulska-Wuyam, the recognizable Agnès Wuyam brand denotes a perfect balance between aesthetics and functionality, with unique pieces in its creations that crystallize the present and defy time. A fashion lover to the point of mastering the subtlety of codes and language, the designer draws from it a definite ability to handle short time, a rather useful approach to have the required responsiveness in the ready-to-wear sector.
Agnieszka Samulska-Wuyam is a Polish name. Unique, it certainly is in the highly codified fashion landscape. After a classical school start, she can't help but scribble on the tables, she, already six years old, has always been very trendy art: painting, drawing, photography. From the fifteenth year, his direction is all found. Parallel to her studies, she enrolled in drawing and painting classes to finally devote herself to something creative. Agnieszka began to paint oil paintings and her style was very popular. It is also expressed in photography, whose sublime photographs will make the wall of an exhibition dedicated to Katowice in Poland.
But her objective is somewhere else: fashion. Fashion is a phenomenon that has always fascinated the young artist, probably a way of expressing herself and building her identity. Agnieszka quickly drew, and thanks to her sketches, she got collaborations with brands as a stylist. For a moment she observes, tirelessly and finally starts her own collections under the brand Agnès Wuyam. A baptism of fire, which was worth the sacrifice, because her determination and talent allowed her to win honors and awards: statuette "Best-seller of the Year 2015 category Discovery of the Year awarded by the magazine "Imperium Urody" and then the Trust Company Award by Business Diamonds to Women In. Where did he get his inspiration? Agnieszka is inspired by everything, the world of the brand Agnès Wuyam is a mix of influences, a state of mind. He is a committed person, ecologically as well.
Modernity, minimalism, chic sport…
In her creations, nothing is left to chance, each garment, each print tells a story, a sensitivity that has never left it. Don't look for a career plan or coherence in Agnieszka Samulska-Wuyam's career. She understood that we only did well and happily what we did with desire. So she does what she wants to do. "In order to be a stylist, you have to love what you do first, it's a very difficult profession requiring self-discipline." Now, in France with her brand, the stylist has become an actor in the world of fashion that praises her boldness that intelligently borders on eccentricity, a good culture and an innate sense of the stage. For 4 years, the brand has been perforating, the fashion shows follow the infernal rhythm of the collections.
In addition to the many shows in Poland in collaboration with Polish National Television and Fashion Magazine, she designs collections for Elite Model Look. The brand Agnès Wuyam is omnipresent in the biggest FashionWeek: Paris, Milan, Monaco, Berlin as well as in various fashion-related events and events. The French elegance pleases and the particular care it imposes for its brand is visible with a sensuality in the foreground. The radicality of an approach that goes hand in hand with his seductive creations. Women's and men's collections that fit perfectly to open-minded people who dare. His skills led him to be a member of the jury of the Fashion Model competition for Fashion TV Poland and Miss Wielkopolska. Invited, Agnieszka composed the outfits of Polish, Italian and French show-business stars. The online sale of its collections and creations is a success in perfect correlation with its distributors in Europe and its physical shop in the heart of the Polish capital Warsaw. This year, an Agnès Wuyam boutique will soon be inaugurated in Paris.
Commitment:
Aware of the difficulties in the world, Agnieszka does not forget where she comes from. She is very involved with charities to help them as best she can. Coronavirus obliges the designer, despite the extreme confinement, to make a recurring contribution every week, by organising on the site of her brand Agnes Wuyam, an auction with one of her creations to help medical services in the fight against the Covid 19 pandemic. In addition, 30 per cent of the value of each purchase of the Agnes Wuyam Collection will be donated to UNICEF and the Polish Siepomaga Foundation as part of a national collection to combat this viral pandemic.
In these difficult days, I directly support all those who have the health and lives of our loved ones in their hands.You don't have to be millionaires to contribute. Let us dedicate this difficult period by showing solidarity by joining in this action so that at last the pooling of our efforts so dear to the hearts of Poles and French may be a source of humanity."